Mon, 18 March 2019
THE DR. VIBE SHOW - DO YOU KNOW WHAT TIME IT IS - MARCH 17 - 2019
---
Mon, 11 March 2019
THE DR. VIBE SHOW - DO YOU KNOW WHAT TIME IT IS - MARCH 10 - 2019
---
Mon, 4 March 2019
THE DR. VIBE SHOW - DO YOU KNOW WHAT TIME IT IS - MARCH 3 - 2019
---
Sun, 3 March 2019
THE DR. VIBE SHOW - LeRON BARTON - THE MINIMISING OF THE SEXUAL ASSAULT OF BLACK BOYS - FEBRUARY 25 - 2019
LeRon L. Barton is a writer from Kansas City, MO currently living in San Francisco, Ca. A graduate of Paseo Academy of Fine Arts, LeRon is the author of two books, "Straight Dope: A 360 degree look into American Drug Culture" and "All We Really Need Is Love: Stories of Dating, Relationships, Heartbreak, and Marriage." In addition to the books, LeRon is an essayist; whose topics cover racism, mass incarceration, politics, gender, and dating. These works have appeared in Salon, The Good Men Project, Elephant Journal, East Bay Times, and MoAD.
Recently, Mr. Barton was on our show talking about his recent article The Minimising Of The Sexual Assault Of Black Boys.
During the conversation, LeRon talked about:
– Why he wrote the article
– The lack of attention about this subject
– Why it is normal for a Black boy to have sex at a young age? Why is not a concern?
– The assumption that Black men and boys cannot be raped
– Black boys can never be innocent and often are viewed as a predator
– The response to the article
– The effect that this has on Black boys and men's emotions
– The importance of therapy for Black men
You can find out more about LeRon via:
Website
Twitter
Facebook
Instagram
Visit The Dr. Vibe Show™ at https://www.thedrvibeshow.com/
Please feel free to email The Dr. Vibe Show™ at dr.vibe@thedrvibeshow.com
Please feel free to "Like" the "The Dr. Vibe Show" Facebook fan page here
God bless, peace, be well and keep the faith,

Dr. Vibe
---
Sat, 2 March 2019
THE DR. VIBE SHOW - FRANCES-ANNE SOLOMON - HERO - FEBRUARY 25 - 2019
A fitting grand finale for Black History Month, the first Black Canadian-made film of 2019 launches into general theatrical release on Thursday, February 28, 2019. Black Canadian filmmaker Frances-Anne Solomon's internationally acclaimed feature film, HERO, makes its Canadian theatrical premiere at TIFF Bell Lightbox, located at 350 King St. W., Toronto, ON. In celebration of HERO's achievement, Ghanian superstar Adjetey Anang, and British rising star Eric Kofi Abrefa (Snowden, The Harlots) are confirmed to attend along with Peter Williams (Canada) and Nickolai Salcedo (Trinidad and Tobago).
"Frances-Anne Solomon has done so much to bring crucial stories from the African Diaspora to screen," said Cameron Bailey, TIFF's Artistic Director and Co-Head. "Her portrayal of the Ulric Cross story illuminates an important chapter in Caribbean history. We're honoured to present HERO at TIFF Bell Lightbox, in collaboration with CTFF."
Filmed in Trinidad, Ghana, the UK and Canada, HERO is the story of Ulric Cross, who in 1941, left his small island to seek his fortune, and became the Royal Air Force's most decorated West Indian. Then his life took a dramatically different course when he followed the call of history. He joined the independence movements sweeping the world in the 50s and 60s.
Toronto's Canadian premiere launches screenings across Canada and a cinematic world tour that includes Africa, the Caribbean, and Europe.
HERO features an all-star cast of top international Black actors in powerful roles. Joseph Marcell (Fresh Prince of Belair) plays Trinidadian author CLR James, alongside Fraser James' (Terminator) as Trinidadian revolutionary George Padmore, while British-Nigerian actor Jimmy Akingbola plays Ghana's first president Kwame Nkrumah, and Adjetey Anang (Adam's Apple, Potomanto) plays Congo's ill-fated first Prime Minister, Patrice Lumumba.
Canada's Peter Williams (Stargate SG1), and Trinidad and Tobago's Nickolai Salcedo co-lead the extraordinary cast, along with Eric Kofi Abrefa (The Informer), Pippa Nixon (John Carter, Unforgotten), and Valerie Buhagiar (Bad Blood, Murdoch Mysteries).
Several members of the international cast will be attending the premiere and will participate in the post-film Talk Back session. The official after-party location will soon be announced.
"HERO captures a transformative moment in Black global history. Securing a general release for the film presents a significant opportunity for us to share our story with a broad and diverse audience. The film is important especially for young Black people to understand on whose broad shoulders we stand, to learn who led big lives and who were heroes," says Frances-Anne Solomon, director and producer of HERO. "Launching at the prestigious TIFF Bell Lightbox theatre acknowledges the impact of this film on the Canadian theatre ecology and its capacity for exposure beyond the Caribbean and Africa."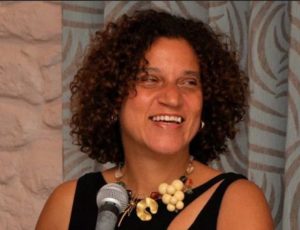 Frances-Anne Solomon
Recently, Frances-Anne Solomon, director and producer of HERO was on our show.
During our conversation, Ms. Solomon talked about:
– A little of her background and Caribbean Tales, CineFam
– The background and story behind Hero and the selection of the cast
– What message would she like the audience to get from the movie
You can find out more about HERO via:
HERO
Caribbean Tales – Twitter
Hero Film – Twitter
HERO – Facebook
CaribbeanTales is proud to present: The "Hero" World Tour – Facebook
Visit The Dr. Vibe Show™ website at https://www.thedrvibeshow.com/
Please feel free to email The Dr. Vibe Show™ at dr.vibe@thedrvibeshow.com
Please feel free to "Like" the "The Dr. Vibe Show" Facebook fan page here
God bless, peace, be well and keep the faith,

Dr. Vibe
---
Mon, 25 February 2019
THE DR. VIBE SHOW - DO YOU KNOW WHAT TIME IT IS - FEBRUARY 24 - 2019
---
Sun, 24 February 2019
THE DR. VIBE SHOW - LAURIANN WADE - THE UNIVERISTY OF TORONTO'S TRANSITIONAL YEAR PROGRAMME - FEBRUARY 12 - 2019
It's the little program that grew, the roots of The Transitional Year Programme (TYP) at the University of Toronto began in the Black community through two summer programs in 1969 and 1970, and since then, hundreds of graduates have gone onto successful careers. "It's a place where the students learn to use their voice, develop empathy and unlock their imaginations in order to dream something bigger for themselves," says TYP Registrar Lauriann Wade, "TYP makes excellence accessible."
TYP is a full-time, eight month access-to-University program and gives those who do not have the formal qualifications – like a high school diploma – intense hands on preparation for entry into post-secondary education. Applicants come from the targeted Indigenous, African-Canadian and LGBTQ communities where finances, family issues or other circumstances beyond their control hindered their schooling. However, the Ontario Progressive Conservative government's recent move to eliminate free tuition for low-income students will make access to higher education difficult once again for applicants to TYP.
"The majority of TYP students are from lower income backgrounds with a family income below $50, 000," explains Lance McCready, Director of TYP. "Having a larger percentage of funding coming from loans will undoubtedly create more debt for our students who have fewer financial resources…it can serve as a deterrent for those from lower income backgrounds trying to access post-secondary education."
In spite of hurdles like this latest one, TYP has a proven track record of success:
Rocco Achampong – born in Ghana, Rocco came to Canada in 1988 with his parents and four siblings. He entered TYP in 1999 and went on to study history and political science at U of T's Trinity College. He is now a lawyer who has run for Toronto mayor and city council. Rocco led the legal challenge against Premier Doug Ford's cutting down of the city's wards.
Jandell Nicholas – She went from staffing co-ordinator at an employment agency to earning her Bachelor of Arts and Master of Arts, Geography and Planning. Jandell now works as a teaching assistant in the university's department of Geography and Planning and is a published author.
Rahel Woldegiorgis – Once given the opportunity, Rahel embraced education. After finishing TYP, she got her Honours BA from the University of Toronto during which time she did two international exchanges – one at The Hebrew University of Jerusalem, the other at the University of Nairobi. She completed her Masters of Arts (Social Justice and Community Engagement) at Wilfrid Laurier University and is now the Residential Supervisor at Eva's, a shelter for homeless youth.
Recently, Lauriann Wade, TYP Registrar and graduate of TYP, was on our show talking about the TYP.
During our conversation, Ms. Wade talked about:
– Some of her background and how she got involved in the Transisitonal Year Programme (TYP) including what was preventing her from going to university, how she found out about TYP, the history of the program, her first day in the programme and her graduation day, the programme itself including the application process
– Why do some students drop out of the programme
– What does her role comprise of
– How have students changed over the years
– The drop in the number of Black and Indigenous students applying for the programme
– How has the programme changed since she was in the programme
– How people find out about TYP
You can find out more about the University Of Toronto's Transitional Year Program here
You can find more about Ms. Wade via:
Please feel free to email The Dr. Vibe Show™ at dr.vibe@thedrvibeshow.com
Please feel free to "Like" the "The Dr. Vibe Show" Facebook fan page here
God bless, peace, be well and keep the faith,

Dr. Vibe
---
Fri, 22 February 2019
THE DR. VIBE SHOW - AISHA K. STAGGERS - STAGGERS STATE OF THINGS - FEBRUARY 20 - 2019
Aisha K. Staggers had her first major publication, an album review, in The New Haven Register while just a sophomore in high school. Another series of reviews published in The Hartford Courant followed. By the time she reached college, Aisha was writing for the literary magazine and interning at a local radio station, ABC-affiliate as a writer in the news department and in the A&R department of an independent record company.
As a graduate student at Fisk University, Aisha asked Dr. Raymond Winbush to chair her thesis because 1) he was one of the most renowned voices in black culture and academia, and 2) he was a Prince fan. His scholarship and guidance led Aisha to an early career as a professor of social sciences and later an administrator in higher education.
Aisha has also served as a director of education and policy research centers and on the staff of legislative commissions. She previously served on the Executive Board of the CT Young Democrats' Women's Caucus, an avid campaigner and has remained active in politics and public policy.
During the February 20, 2019 edition of Staggers State Of Things, Ms. Staggers talked about:
– Mueller report finally coming out?
– 45 declaring a State Of National Emergency
– Former FBI Acting Director Andrew McCabe new book and interviews
– Roger Stone ordered to appear in court over Instagram post targeting judge
– Bernie Sanders running for president in 2020
– The ongoing Jussie Smollett controversy
You can find more about Ms. Staggers via:
HuffPost
Atlanta Black Star
YouTube – I Wish U Heaven – Prince Tribute Playlist
Email
Visit The Dr. Vibe Show™ at https://www.thedrvibeshow.com/
Please feel free to email The Dr. Vibe Show™ at dr.vibe@thedrvibeshow.com
Please feel free to "Like" the "The Dr. Vibe Show" Facebook fan page here
God bless, peace, be well and keep the faith,

Dr. Vibe
---
Thu, 14 February 2019
THE DR. VIBE SHOW - DR. STUART SHANKER - SELF-REGULATION AND FATHERS - SIDE-BY-SIDE - FATHERHOOD MATTERS IN THE EARLY YEARS - FEBRUARY 9 - 2019
Stuart Shanker, D Phil (Oxon), is a Distinguished Research Professor Emeritus of Philosophy and Psychology from York University and the CEO of the MEHRIT Centre, Ltd. (www.self-reg.ca). His most recent book, Self-Reg: How to Help Your Child (And You) Break the Stress Cycle and Successfully Engage With Life, has garnered glowing reviews around the world being published in Canada, the US, the UK, as well as many other languages.
Over the past decade, Stuart Shanker has served as an advisor on early child development to government organizations across Canada and the United States, and in countries around the world. During this period, he became increasingly interested in the impact of excessive stress on child development and behaviour. Stuart Shanker's five-step Self-Reg model — The Shanker Method® — is a powerful process for understanding and managing stress in children, youth and adults. In 2012 he founded The MEHRIT Centre as a Self-Reg learning and information centre. Stuart commits considerable time to bringing the research and science of Self-Reg to parents, early childhood educators, teachers, educational leaders, health practitioners and communities through presentations, master classes, online courses, webinars, publications, social media and a blog entitled, Self-Reg
Recently, Dr. Shanker was on our show. During our conversation, Dr. Shanker talked about:
– Some of his background
– The background behind the research project that showed that childhood stress often results from parental stress
– His thoughts on getting funding for research projects
– That a lot people's stresses are hidden and self-regulated
– Self-regulation and fathers
– Some of the stressors in father's lives
– The difference between misbehaviour and stress behaviour with children
To find out more information about Dr. Shanker, please click here.
Dr. Shanker is one of the speakers at the upcoming Side-by-Side: Canadian Father Involvement Conference in Ottawa, Canada from from February 28, 2019 (9 a.m.) – March 1, 2019 (4 p.m.). For more information about the conference, please click here.
Visit The Dr. Vibe Show™ at https://www.thedrvibeshow.com/
Please feel free to email us at dr.vibe@thedrvibeshow.com
Please feel free to "Like" the "The Dr. Vibe Show" Facebook fan page here
God bless, peace, be well and keep the faith,

Dr. Vibe
---
Mon, 11 February 2019
THE DR. VIBE SHOW - DO YOU KNOW WHAT TIME IT IS - FEBRUARY 10 - 2019
---