Sat, 20 April 2019
THE DR. VIBE SHOW - MICHAEL FORREST - CANADIAN BLACK CHAMBER OF COMMERCE - APRIL 18 - 2019

The official launch of the Canadian Black Chamber of Commerce (CBCC) takes place on Thursday April 25th, 2019 at Metro Hall, 55 John Street at 6:00pm with guest panelists Nadia Theodore, Consul General of Canada to the Southeastern United States, Ron Busby, President/CEO of the U.S Black Chambers and Mary Ng, Minister of Small Business and Export Promotion. "I always say that we must 'see it to be it' and so the importance of an ecosystem and network that will encourage and support the proliferation and success of Black-owned and Black-led businesses cannot be overstated," says Ng.
The focus of the evening's discussion will include:
· Breaking Down Barriers To Growth
· Supporting Black Entrepreneurship
· Investing In Black-owned Businesses
· Access to Capital & Funders
· U.S & Global Trade
The Canadian Black Chamber of Commerce is committed to aiding in the growth, development and success of Black businesses across the country. "The goal of the Chamber is to be the national voice of Black Canadian businesses and entrepreneurs," explains founder Michael Forrest, president of Forrest Management Group. "We are dedicated to building a prosperous Black Canadian community."
More than 150 guests and dignitaries will attend the inaugural CBCC celebration – among the invited guests: Black Business Professional Association (BBPA), Afro Caribbean Business Network (ACBN), ByBlacks.com, The Jamaican-Canadian Association and Caribbean African Canadian Social Services.
"I'm excited about the opportunities that the Canadian Black Chamber of Commerce can provide to Canadian businesses, especially as they seek to grow in the U.S. market and globally," said Consul General Nadia Theodore. Adds U.S Black Chambers President Ron Busby, "Without a doubt, it will serve as a key resource to Black Canadian entrepreneurs."
A 2015 survey by the BBPA Council Advisory Body of the City of Toronto found that Black businesses who participated were predominantly self-employed (48%) and 32% of them employed two to five individuals. Only 1 % employed at least 101 employees. With a population of approximately 200, 000 in the GTA who identify as Black, there is a need for an organization like the Canadian Black Chamber of Commerce to assist in growth, development and networking – not only in Toronto – but across the country. Affiliate CBCC chapters will be launching in other provinces in the coming weeks.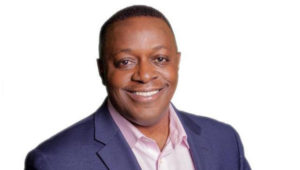 Michael Forrest – Founder – Canadian Black Chamber Of Commerce
Recently, Michael Forrest, founder of the Canadian Black Chamber of Commerce, was on our show.
During our conversation, Mr. Forrest talked about:
– Some of his background and some of his career including when did he decide to become an entrepreneur
– The history behind the Canadian Black Chamber of Commerce
– The four C's: Community, Culture, Centres, Commerce
– The response of other organizations when they reached out to them
– Some of the challenges that Black Canadians face when starting a business
– Some of the resources and services that the Chamber is planning to equip Black Canadians with
– The diversity on their board
– Some of the special guests attending the April 25th launch
– "Canada, the north star of the Black renaissance."
– The Chamber's plans to expand across Canada
– The measures of success in the next year for the organization
– That it is a great time for Black Canadians to consider entrepreneurship
– How does a well run Chamber work
You can find our more information about the Canadian Black Chamber of Commerce via:
Website
Twitter
Facebook
Instagram
Linkedin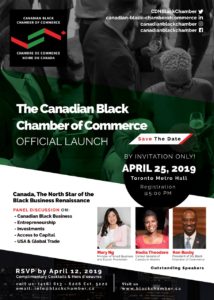 Canadian Black Chamber Of Commerce Official Launch – April 25, 2019 – Toronto, Ontario
Please feel free to email The Dr. Vibe Show™ at dr.vibe@thedrvibeshow.com
Visit The Dr. Vibe Show™ at https://www.thedrvibeshow.com/
Please feel free to "Like" the "The Dr. Vibe Show" Facebook fan page here
God bless, peace, be well and keep the faith,

Dr. Vibe
---