Fri, 16 November 2018
THE DR. VIBE SHOW - SERENA WILLS AND TARA LESSARD - OVARIAN CANCER PT. 2 - NOVEMBER 1 - 2018
Serena Wills is a native New Yorker and currently resides in the Washington, DC area. She holds a BA in Policy Studies from Syracuse University an MPA from Virginia Tech and studying for her MA in Health and Wellness Coaching. She's a nonprofit guru, a published author and spoken word artist. Her previous publications include her first poetry book titled, Reconstruction, Pieces of Life, Volume 1 was released in 2014 and is available on her website, Amazon and Barnes and Noble. She's also published in numerous anthologies and is a contributing writer/health and wellness blogger for online magazines and websites.
Serena is a mother to her beautiful son and is an advocate for Ovarian Cancer, GYN Cancers, HIV/AIDS, Lymphoma and Lyme Disease research and is a member of Delta Sigma Theta Sorority, Inc..
You can contact Ms. Wills via:
Website
Facebook
Twitter
Email
Tara Lessard's Story …
It was August 2015. I spent a lot of time crying by the Delaware River, just blocks from my Morrisville, Pennsylvania home. I suffered from acid reflux for a year and knew something more was wrong but didn't know what it was. I tried diet modification, sleeping sitting up and natural remedies to no avail. I finally went to a local hospital ER in September after having extreme pain in my stomach with immense amount of pressure when I sat down. They did a CT scan and quickly admitted me to the hospital where I was told the gynecologist would provide results the next day and family should be present. It was then the doctor shared I had stage 4 ovarian cancer and there was nothing they could do for me. I was in shock. No one in my family had cancer.
I ended up starting treatment at a nearby cancer hospital. They said I was a textbook case and recommended chemotherapy and surgery – and said I would be fine. I didn't get a sense they knew me or cared about my concerns. They didn't see me as a unique individual.
I reached out to Cancer Treatment Centers of America after my sister researched other options. Unfortunately, I was too sick to travel, so I treated closer to home at another cancer center and underwent an aggressive plan given the cancer growth beyond the ovaries. I had debilitating pain, eventually leading to use of a wheelchair. After a few months, I learned the disease metastasized to my spleen. Doctors said I probably had two years to live. I was in my mid-40s and wanted more. I went back into research mode, consulting with multiple, well-known facilities who all said the same thing. That's when I picked up the phone and followed through with CTCA to get another opinion.
Tara's CTCA Experience
In March 2017, I flew to CTCA in Atlanta and met with Dr. Geisler who said, "Your cancer is my priority." He explained he would remove the spleen and any other evidence of the disease. After surgery, I would undergo six rounds of chemotherapy and was a good candidate for a new immunotherapy drug.
I instantly loved my team and had faith in Dr. Geisler.
By late April, I was set for surgery, but got extremely sick and was admitted to the local hospital for obstructed bowel. Once released, I couldn't eat or drink, so I went to another hospital for three weeks. They told me they wanted to operate, but I refused. I knew I needed to get back to CTCA. The doctors put in a central line for TPN, so my mom, sister and I hired a medical transport van and drove down to Atlanta so I could have surgery there.
Surgery was intense, involving my spleen, pieces of my small bowel and more. It was successful. A week later, I went back for emergency surgery followed by an extended hospital stay. The care was amazing. Everyone from Nursing, Transportation, Pastoral Care and Cancer Fighters spent time with us. Dr. Rosenberg performed adjustments to help my back, Dr. Johnson helped my side effects with acupuncture, and Physical Therapy ensured I got up to walk. After discharge, I returned to CTCA every three weeks for chemo and received my last treatment on my 45th birthday. My CA levels drastically decreased…and I remain cancer free.
I am so grateful for the entire staff at CTCA. My mom and I are now patient and caregiver advocates. We love our changing roles in this journey and are so happy we can give back by helping others. I am so grateful not to be just living, but thriving.
Additional Information:
● I live in Morrisville, Pennsylvania (north of Philadelphia)
● I love cooking, photography, making jewelry and painting
● I'm currently in a scholarship program for The Barnes Foundation in Philadelphia (home to one of the world's greatest collections of impressionist, post-impressionist and early modern paintings)
● Mom and I love being Cancer Fighter Care Net (CFCN) volunteers
Recently, Serena and Tara were on our show continuing their conversation about ovarian cancer.
During the conversation, the ladies talked about:
– What they have been up to and their involvement in ovarian cancer month events (last September)
– Updates in regards to ovarian cancer
– Tara's daily routine which includes taking seventeen vitamins a day
– The medical community response to fighting ovarian cancer
– Medical costs and ovarian cancer
– More younger women dealing with ovarian cancer
– What questions should an ovarian cancer patient ask their doctor
You can contact Ms. Lessard via:
Visit our website at https://www.thedrvibeshow.com/
Please feel free to email us at dr.vibe@thedrvibeshow.com
Please feel free to "Like" the "The Dr. Vibe Show" Facebook fan page here
God bless, peace, be well and keep the faith,

Dr. Vibe
---
Fri, 16 November 2018
THE DR. VIBE SHOW - ALL OUR OWN SHOW - FRIENDSHIPS IN BLACK AND WHITE - CAN WOMEN OF COLOR AND WHITE WOMEN HAVE LASTING MEANING RELATIONSHIPS - NOVEMBER 11 - 2018
All Our Own is live international audio conversation for Generation X Women of Color.
It is a safe space where Gen X Women of Color can discuss their issues with input from women of color from other generations. However, Generation X women are at the center of the conversation.
The regular panelists are: Aisha Staggers , Julissa Borbon and L.A. Wade.
Recently, the All Our Own ladies hosted the conversation Can Women Of Color And White Women Have Lasting Meaningful Relationships?.
Their special guests were: Regina Jones and Elaine Jesmer.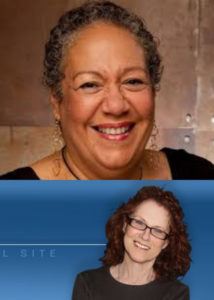 Regina Jones And Elaine Jesmer
During the conversation, the ladies talked about:
– Some post American midterm election takes
- How the special guests met each other, when did they know that they know that they could trust each other and some great stories
– "Racism is the stain on America." Elaine
– "My ability to have friends and make friends is my greatest wealth." "Civil rights did not free Black people. It freed white women." Regina
– The current state of race relations in America
You contact Ms. Jones via:
You can contact Ms. Jesmer via:
You contact Ms. Jones via:
You can contact the All Our Own Show via:
Twitter
Email
#AllOurOwnShow (Twitter)
You can contact Aisha Staggers via:
You can contact Julissa Borbon via:
You can contact L.A. Wade via:
Visit The Dr. Vibe Show™ at https://www.thedrvibeshow.com/
Please feel free to email us at dr.vibe@thedrvibeshow.com
Please feel free to "Like" the "The Dr. Vibe Show" Facebook fan page here
God bless, peace, be well and keep the faith,

Dr. Vibe
---
Fri, 16 November 2018
THE DR. VIBE SHOW - AISHA K. STAGGERS - STAGGERS STATE OF THINGS - NOVEMBER 14 - 2018
Aisha K. Staggers had her first major publication, an album review, in The New Haven Register while just a sophomore in high school. Another series of reviews published in The Hartford Courant followed. By the time she reached college, Aisha was writing for the literary magazine and interning at a local radio station, ABC-affiliate as a writer in the news department and in the A&R department of an independent record company.
As a graduate student at Fisk University, Aisha asked Dr. Raymond Winbush to chair her thesis because 1) he was one of the most renowned voices in black culture and academia, and 2) he was a Prince fan. His scholarship and guidance led Aisha to an early career as a professor of social sciences and later an administrator in higher education.
Aisha has also served as a director of education and policy research centers and on the staff of legislative commissions. She previously served on the Executive Board of the CT Young Democrats' Women's Caucus, an avid campaigner and has remained active in politics and public policy.
During the November 14, 2018 edition of Staggers State Of Things, Ms. Staggers talked about:
– The recent American midterm elections … Who is in and who is out?
– CNN's lawsuit over White House ban of Jim Acosta
– 45 and black women in media
You can find more about Ms. Staggers via:
HuffPost
Atlanta Black Star
YouTube – I Wish U Heaven – Prince Tribute Playlist
Email
Visit our website at https://www.thedrvibeshow.com/
Please feel free to email us at dr.vibe@thedrvibeshow.com
Please feel free to "Like" the "The Dr. Vibe Show" Facebook fan page here
God bless, peace, be well and keep the faith,

Dr. Vibe
---