Fri, 30 November 2018
THE DR. VIBE SHOW - ALL OUR OWN SHOW - TAKING CARE OF SELF - WOMEN OF COLOR SELF-CARE HEALTH WELLNESS AND HEALING - NOVEMBER 25 - 2018
Aisha, Julie B. and L.A.
All Our Own is live international audio conversation for Generation X Women of Color.
It is a safe space where Gen X Women of Color can discuss their issues with input from women of color from other generations. However, Generation X women are at the center of the conversation.
The regular panelists are: Aisha Staggers , Julissa Borbon and L.A. Wade.
Recently, the All Our Own ladies hosted the conversation Taking Care of Self: Women of Color, Self-care, Health, Wellness and Healing.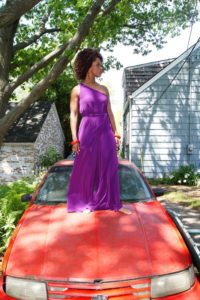 Dawn Ellen Morris
The ladies special guest was: Dawn Ellen Morris. Ms. Morris is a Master Personal Trainer Wellness Coach from the greater Chicago area.
During the conversation, the ladies talked about:
– The All Our Own ladies do a check in
– Dawn shares some of her story
– The All Our Own ladies share fitness and weight challenges and Dawn gives her takes on self care
– Some great quotes from Dawn: "Those who don't have time for exercise now will have time for exercise later." "We are not dyeing quickly. We are dying young." "I don't say diet. I say eat right." "Healthy eating does not have to be boring."
– Dawn talks about curvy vs. overweight
– Why do Black women question their shapely, beautiful body?
– White women appropriating Black women's features
– The ladies to a healthy food quiz
You can contact Ms. Morris via:
You can contact the All Our Own Show via:
Twitter
Email
#AllOurOwnShow (Twitter)
You can contact Aisha Staggers via:
You can contact Julissa Borbon via:
You can contact L.A. Wade via:
Visit The Dr. Vibe Show™ website at https://www.thedrvibeshow.com/
Please feel free to email us at dr.vibe@thedrvibeshow.com
Please feel free to "Like" the "The Dr. Vibe Show" Facebook fan page here
God bless, peace, be well and keep the faith,

Dr. Vibe
---