Sat, 2 March 2019
THE DR. VIBE SHOW - FRANCES-ANNE SOLOMON - HERO - FEBRUARY 25 - 2019
A fitting grand finale for Black History Month, the first Black Canadian-made film of 2019 launches into general theatrical release on Thursday, February 28, 2019. Black Canadian filmmaker Frances-Anne Solomon's internationally acclaimed feature film, HERO, makes its Canadian theatrical premiere at TIFF Bell Lightbox, located at 350 King St. W., Toronto, ON. In celebration of HERO's achievement, Ghanian superstar Adjetey Anang, and British rising star Eric Kofi Abrefa (Snowden, The Harlots) are confirmed to attend along with Peter Williams (Canada) and Nickolai Salcedo (Trinidad and Tobago).
"Frances-Anne Solomon has done so much to bring crucial stories from the African Diaspora to screen," said Cameron Bailey, TIFF's Artistic Director and Co-Head. "Her portrayal of the Ulric Cross story illuminates an important chapter in Caribbean history. We're honoured to present HERO at TIFF Bell Lightbox, in collaboration with CTFF."
Filmed in Trinidad, Ghana, the UK and Canada, HERO is the story of Ulric Cross, who in 1941, left his small island to seek his fortune, and became the Royal Air Force's most decorated West Indian. Then his life took a dramatically different course when he followed the call of history. He joined the independence movements sweeping the world in the 50s and 60s.
Toronto's Canadian premiere launches screenings across Canada and a cinematic world tour that includes Africa, the Caribbean, and Europe.
HERO features an all-star cast of top international Black actors in powerful roles. Joseph Marcell (Fresh Prince of Belair) plays Trinidadian author CLR James, alongside Fraser James' (Terminator) as Trinidadian revolutionary George Padmore, while British-Nigerian actor Jimmy Akingbola plays Ghana's first president Kwame Nkrumah, and Adjetey Anang (Adam's Apple, Potomanto) plays Congo's ill-fated first Prime Minister, Patrice Lumumba.
Canada's Peter Williams (Stargate SG1), and Trinidad and Tobago's Nickolai Salcedo co-lead the extraordinary cast, along with Eric Kofi Abrefa (The Informer), Pippa Nixon (John Carter, Unforgotten), and Valerie Buhagiar (Bad Blood, Murdoch Mysteries).
Several members of the international cast will be attending the premiere and will participate in the post-film Talk Back session. The official after-party location will soon be announced.
"HERO captures a transformative moment in Black global history. Securing a general release for the film presents a significant opportunity for us to share our story with a broad and diverse audience. The film is important especially for young Black people to understand on whose broad shoulders we stand, to learn who led big lives and who were heroes," says Frances-Anne Solomon, director and producer of HERO. "Launching at the prestigious TIFF Bell Lightbox theatre acknowledges the impact of this film on the Canadian theatre ecology and its capacity for exposure beyond the Caribbean and Africa."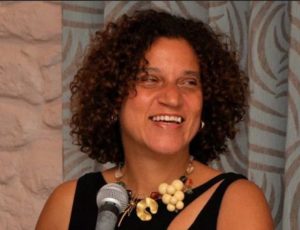 Frances-Anne Solomon
Recently, Frances-Anne Solomon, director and producer of HERO was on our show.
During our conversation, Ms. Solomon talked about:
– A little of her background and Caribbean Tales, CineFam
– The background and story behind Hero and the selection of the cast
– What message would she like the audience to get from the movie
You can find out more about HERO via:
HERO
Caribbean Tales – Twitter
Hero Film – Twitter
HERO – Facebook
CaribbeanTales is proud to present: The "Hero" World Tour – Facebook
Visit The Dr. Vibe Show™ website at https://www.thedrvibeshow.com/
Please feel free to email The Dr. Vibe Show™ at dr.vibe@thedrvibeshow.com
Please feel free to "Like" the "The Dr. Vibe Show" Facebook fan page here
God bless, peace, be well and keep the faith,

Dr. Vibe
---