Sat, 30 March 2019
THE DR. VIBE SHOW - THE SPELLING BEE OF CANADA - MARCH 14 - 2019
Spelling Bee of Canada/Épelle-Moi Canada's Regional Competitions across Canada began on Saturday, March 2, and continue through Sunday, April 7, 2019. Over 4000 English and French spelling bee participants in British Columbia, Alberta, Saskatchewan, Manitoba, Ontario, Quebec and Nova Scotia will be competing for the 1st, 2nd, and 3rd place titles in three age divisions: Primary (ages 6-8), Junior (ages 9-11), and Intermediate (ages 12-14). Each first place Regional winner advances to the Canadian Championships, to be held in Richmond Hill, ON, on Sunday, May 5, 2019.
"With such strong participation again this year, the message is clear – spelling bees are good for our kids, youth and our communities," says Dr. Nagina Parmar, President of Spelling Bee of Canada (SBOC). "With the support of parents, Chapter Presidents and volunteers, we're encouraging young people to expand their vocabulary, communication skills and self-confidence by providing a foundation for future scholastic achievements through our theme of 'Education + Perseverance = Success'."
Incorporating technology to better meet the changing needs of participants and their families, is one of SBOC's modernizations. Over the past months, bee participants have been preparing for the challenging words they will encounter by using SBOC's web-based coaching app to practice anytime, anywhere, on any web-enabled device. This is just one of the many advancements the new board members are advocating.
"We're thrilled to have passionate new board members join us this year. Coming from spelling bee backgrounds, they're adding new perspectives, sharing their expertise and are dedicated to helping us reach our goals," says Julie Spence, SBOC's CEO and Founder. "As a registered charity, we depend on like-minded businesses, organizations and individuals to contribute time, materials, service and/or funds to make our spelling bees and educational programs possible."
In its 32nd year, SBOC has welcomed over 50,000 children as spelling bee participants. SBOC, a not-for-profit grassroots organization, was established in the greater Toronto area in 1987 and led to the development of an Ontario Spelling Bee. Since then, SBOC has been promoting children and youth literacy with the mission to enrich the children and youth learning experience and engage schools and the community at large in an annual education process.
Long-term, SBOC plans on establishing chapters in each province and territory in order to create a National Spelling Bee, providing access to English and French language learning through their proprietary online platforms and ultimately engaging approximately one million participants across Canada.
Recently, Dorine Joelle from Spelling Bee Of Canada was live on our show.
During our conversation, Ms. Joelle talked about:
– Epoi Moi Of Canada (French version of The Spelling Bee Of Canada)
– some background on The Spelling Bee Of Canada and Epoi Moi Of Canada
– How did her and Julie Spence (the founder of Spelling Bee of Canada) met
– The first event that the organizations collaborated on
– the process to qualify for the contest
– How the contest is a year round process
– Literacy in Canada
– Making the children the focus of the competition not the parents
– The biggest change that she has seen with the organization
You can find out more information about the Spelling Bee Of Canada via:
Website
Instagram
Facebook
Twitter
Visit The Dr. Vibe Show™ at https://www.thedrvibeshow.com/
Please feel free to email The Dr. Vibe Show™ at dr.vibe@thedrvibeshow.com
Please feel free to "Like" the "The Dr. Vibe Show" Facebook fan page here
God bless, peace, be well and keep the faith,

Dr. Vibe
---
Sat, 30 March 2019
THE DR. VIBE SHOW - SERENA WILLS - TAKING CARE OF OUR ELDERS - MARCH 7 - 2019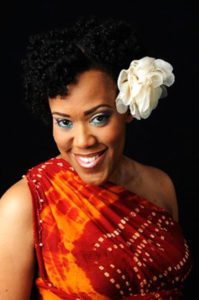 Serena Wills
Serena Wills is a native New Yorker and currently resides in the Washington, DC area. She holds a BA in Policy Studies from Syracuse University an MPA from Virginia Tech and studying for her MA in Health and Wellness Coaching. She's a nonprofit guru, a published author and spoken word artist. Her previous publications include her first poetry book titled, Reconstruction, Pieces of Life, Volume 1 was released in 2014 and is available on her website, Amazon and Barnes and Noble. She's also published in numerous anthologies and is a contributing writer/health and wellness blogger for online magazines and websites.
Serena is a mother to her beautiful son and is an advocate for Ovarian Cancer, GYN Cancers, HIV/AIDS, Lymphoma and Lyme Disease research and is a member of Delta Sigma Theta Sorority, Inc..
Recently, Ms. Wills was on our show talking about Taking Care of Our Elders.
During our conversation, Ms. Wills talked about:
– Why did she want to chat about this subject
– Some of her mother shares mother's battle with ovarian cancer, how it impacted her and how she became a care giver for her mother
– The need for balance when you are a caregiver
– The support she received and the support she did not receive while her mother was sick
– The importance of elders having life insurance
– Self care is a must if you are a care giver
You can contact Ms. Wills via:
Website
Facebook
Twitter
Email
Visit The Dr. Vibe Show™ at https://www.thedrvibeshow.com/
Please feel free to email The Dr. Vibe Show™ at dr.vibe@thedrvibeshow.com
Please feel free to "Like" the "The Dr. Vibe Show" Facebook fan page here
God bless, peace, be well and keep the faith,
Dr. Vibe
---